International Women's, Men's, Mother's or Father's Day – there are many public holidays that companies use for special email campaigns to reach the female or male target group. Through so-called "gender marketing", markets are segmented according to gender and products and services are marketed according to the needs of female and male consumers.  Those gender-specific campaigns aim to define the ideal approach for each target group
The international target group specialist Audience Serv dealt with the subject of "gender-specific advertising campaigns" within the International Women's Day. As many marketing campaigns for this specific holiday are trying to reach the female audience, Audience Serv performed an analysis to determine the main differences between women and men in terms of user behavior. In addition, the results will give valuable tips about how to find the right strategy to reach the female customers.
What are the differences between women and men in terms of user behavior?
For the company's internal analysis, almost 7,000 send-outs from the past three months within Germany and Europe were analyzed. The goal was to outline the differences between female and male user behavior with regard to the e-mail interaction and to determine which approach should be chosen for which gender.
In order to analyze different user behaviors, Audience Serv focussed on average opening and click rates of both genders. The numbers show that women and men are starting to check their emails between 6 am and 9 am. The highest likelihood for interactions for both genders is between 9 a.m. and 5 p.m. That means that females, as well as male users, are very active during regular working hours. Going into more detail, you can recognize differences within this active time frame: When it comes to interaction with the email content, women tend to engage the most during lunchtime, from 12 pm to 2 pm. Men, on the other hand, interact more frequently during working hours with peaks around 9 a.m., 12 p.m., 5 p.m. So, if you are planning to send newsletters to female users, it might be worth a try to schedule your send out for lunchtime.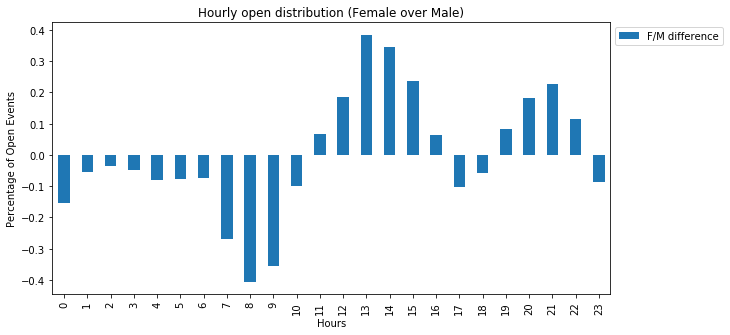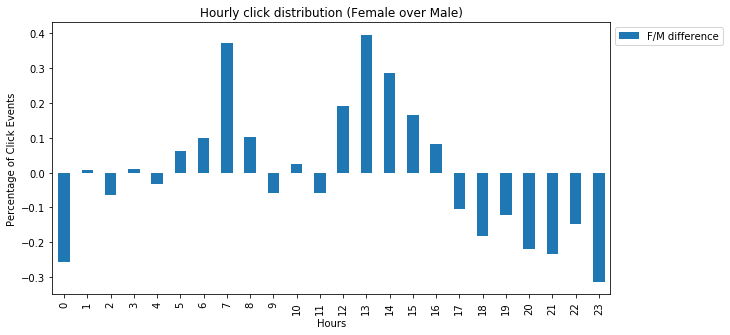 Another interesting aspect is the female behavior after usual working hours (from 7 p.m.). On the one hand, women are opening their emails more often than men in this time period, but their click percentage is lower than for men. If your marketing campaign aims to get awareness for your brand and give some informative content, after working hours might be a good time to get attention. For Call-to-Action campaigns, regular working hours are the better choice for your send-out.
Based on the analysis, it can also be concluded that women tend to open one email more often than men. In terms of evaluating the customer journey of users, this fact shows that the path for each customer exists of more than one touchpoint. The same applies to email conversions.
In order to obtain more insights into the behavior of female users, the specialists also analyzed the opening and click rates in light of different age groups. The result indicates that women up to 60 years old are more active with e-mails than men, who show more activity from 60 years old onwards.
These age insights are believed to be consistent with most customer personas. Women and men between 40 and 60 years of age are considered the main target group for many companies. As salaries increase generally with age, also willingness to consume gets higher, which is shown in higher click rates. The study shows further that women between 40 and 60 have high click rates, while men tend to engage more with email content between 50 and 70 years. Variations in the behavior of different age groups should be considered when setting up the marketing strategy and when defining the target audience.
Find the right approach for each gender
When analyzing the opening rate in relation to the recipient rate, the outcome shows that women and men have similar interests, but they prioritize them differently. While fashion, shopping, leisure and gaming categories have the highest opening rates for both genders, entertainment, healthcare, and dating are among the most appealing topics for men. When interpreting the interaction of the female recipients, topics such as astrology, health, and travel seem to be appreciated by female users.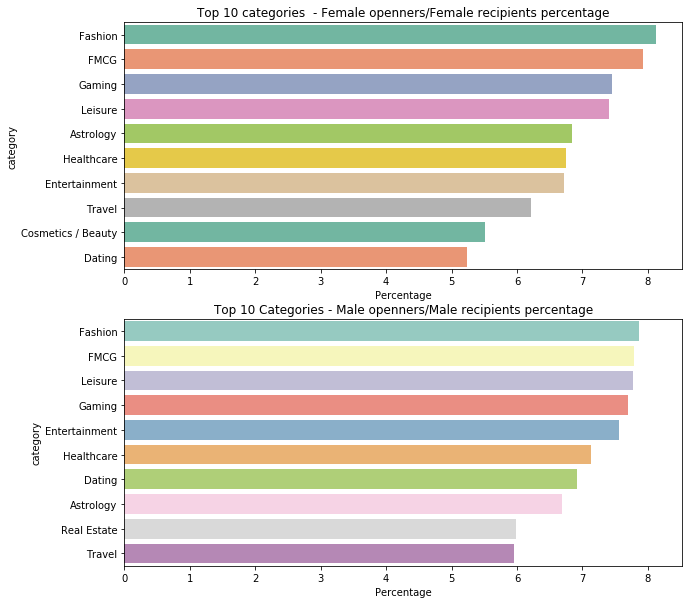 In order to determine the ideal target group, the interest of the target should be taken into account. But it is also important to include other factors for a successful campaign. In the case of gender-specific advertising messages, it is important to avoid clichés. This is especially advisable for gender-related campaigns, such as Women's Day. Because the female customer prefers humor and inspiration instead of stereotype messages. Women are particularly well-received if the content is conveyed by emotions, people or family. In contrast, male users prefer campaigns with action and competitive situations. The campaign content should also be transferred to the visual level: clear, bright newsletters with an emotional design are appealing to female customers, while men find a rational approach with technical details and comparisons appealing.
In general, the advertising message should not become a cliché message. A careful approach and sensitivity is the key to a successful campaign, especially when it comes to honoring the emancipation on women's day.

Design gender-specific campaigns taking into account the interest, address, and design: Women prefer bright, clear newsletters with an emotional appeal. Categories such as fashion & consumption are in demand for female users. Men are more attracted by rational and technical newsletters giving information about topics like government, fashion, and leisure.

If emails are sent out in a classic way, it is advisable to send newsletters during regular working hours from 9 a.m. to 5 p.m. Particularly high click rates for women are likely around noon (12 p.m. to 2 p.m.), men are frequently active during the day. However, it should be noted that the user behavior varies from database to database and individual analyses might be useful for each company. Our latest technologies enable individual send-outs based on user-specific behavior. We would be happy to advise you on our services and direct marketing opportunities.

Female users up to the age of 60 years have shown higher interaction with e-mails than men at this age, whereby the behavior changes with the age of 60. Female E-mail recipients have particularly high interaction rates between the ages of 40 and 60. Depending on the campaign goal, these differences should be taken into account when defining target groups.