Email marketing can be classified as a direct marketing tool that can help to increase brand awareness, acquire new customers or strengthen customer loyalty. While email marketing is still associated with impersonal and irrelevant newsletters, the online marketing channel offers far greater added value for companies.
In this article you will learn what email marketing is, what are the most common forms of emails and how you can use email campaigns to drive your company's success.
What is email marketing? (Definition)
Email marketing is an online marketing channel and a form of direct marketing. Businesses use email marketing to promote their products or services or to share relevant content with recipients. This form of marketing plays a crucial role in the marketing strategy. Email campaigns can help to increase awareness and brand awareness, win new customers and generate leads, or strengthen customer loyalty and increase customer lifetime value.
Newsletter: The newsletter is probably the classic among the email formats. This means the regular sending of emails to subscribers. Thematically, this type of email relates to business updates, new blog posts, events, promotions, etc. The main goal is to maintain regular customer communication so that the company does not fall into oblivion.
Standalone emails: "Standalone" means something like "solo, alone" and that's exactly what this type of email stands for. The standalone email describes a one-time send out for a specific reason. For example, while the newsletter is sent once a month with the latest news and content, special events and campaigns (e.g. Black Friday campaign, trade fair presence, special offers) are sent as separate emails. The goal is to draw the customer's attention to a specific campaign and to consciously promote it.
Trigger e-mailing: A birthday voucher or a welcome email counts as a trigger email, for example. Emails of this type refer to a personalized event, a specific point in time or a special event in the customer journey. Trigger emails are sent based on a predefined rule and can be perfectly combined with an email automation. Due to their high degree of personalization, trigger emails usually achieve very good results.
Transactional emails: Transactional emails are automatically triggered by a specific action by the customer in the system. For example, when goods are ordered on the website, an order confirmation is sent to the customer. Shipping confirmations and invoices are also sent this way. Since this type of email is triggered and expected by the customer himself, this format is of great relevance in email marketing.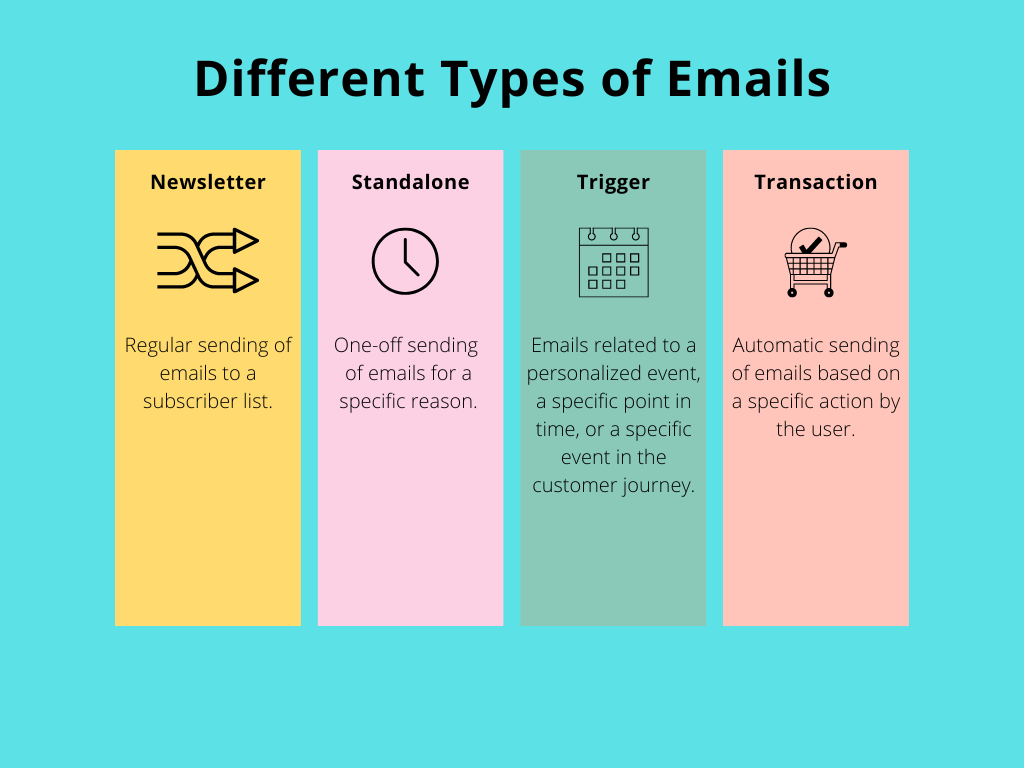 Essential goals of email marketing campaigns
Email marketing can have different goals and can be used at every stage of the customer journey.
Basically, newsletter marketing is used for the following 3 goals:
Create Brand Awareness: Awareness campaigns share the email campaign with potential customers to draw attention to the company, introduce products and services, and build brand awareness.
Increase traffic and sales: With targeted direct marketing campaigns, companies can send relevant offers to the right target group and generate more traffic for the website or online shop. Set up correctly, you can increase your sales and drive business growth.
Strengthen customer relationships: Email campaigns also serve to bind existing customers to your brand. By sending regular emails, you can ensure that your customers are kept up to date and that your brand stays in their minds.
So, successful email marketing can help you achieve various marketing goals.
Email Marketing: Importance and Benefits
With the increasing number of email users worldwide1), the importance of email marketing continues to grow. For 58% of those surveyed, email continues to be the most important communication channel between consumers and companies.2)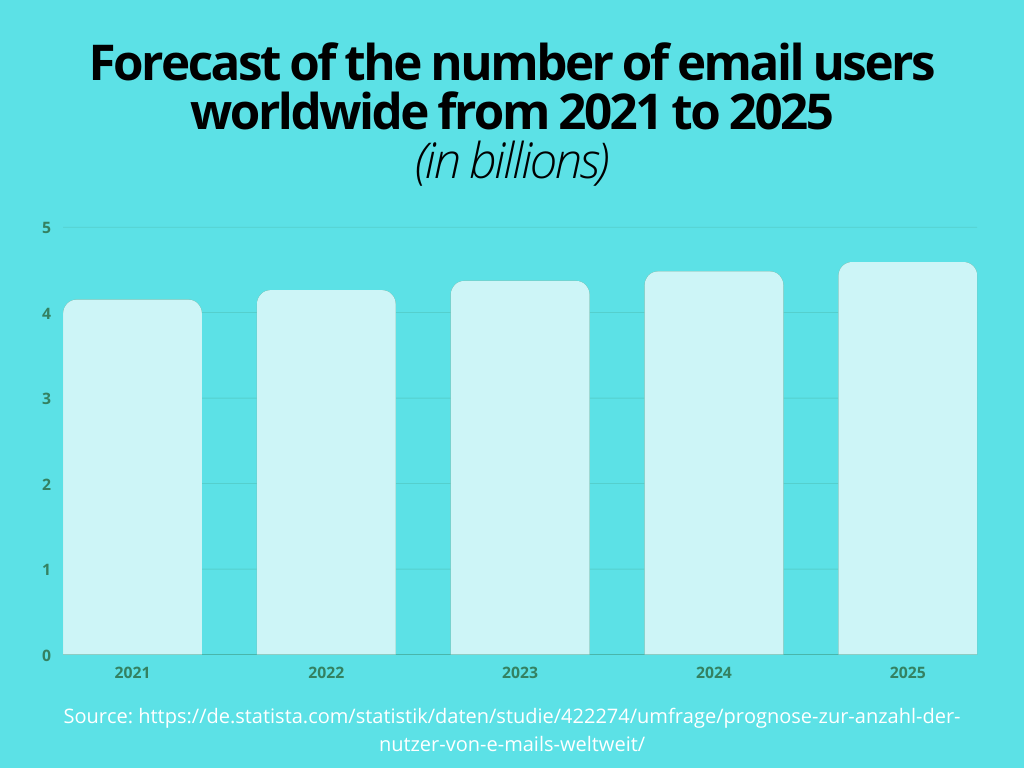 But why is email marketing so important and what are the benefits?
Very good ROI
Email marketing is considered to be the most effective marketing strategy in online marketing.3) That's probably why it's used by all types of businesses in all industries. Especially when it comes to acquiring new customers, email marketing is up to 40 times more effective than Facebook or Twitter.4) With little effort, marketers can send their email message to millions of potential customers. A targeted campaign, personalized content, and professional templates can help generate high-quality leads and generate more sales. This way, the budget is used optimally and the ROI is maximized.
Effective and efficient
With relatively little investment of time and money, a targeted email campaign can lead to the desired success. Done right, the email channel is very effective and efficient. With professional, conversion-optimized email templates, good planning and automation, you can reach exactly the right target group at the right time and thus gain considerable market relevance.
Good measurability
Email campaigns can be evaluated in great detail. With reliable metrics (e.g. opening rate, click rate, bounce rate, conversion, etc.), marketers can analyze the respective campaign in detail in order to measure, compare and optimize their success. Thanks to integrated tracking links, generated leads can also be precisely tracked.
Scalability
The great success of a targeted email campaign is also due to its flexible scalability. Because the effort for an email is completely independent of the subscriber list/sent volume and can therefore be scaled without restrictions. The larger the mailing list, the more efficient the measures.
Relevance of Emails
The relevance of email is unique compared to other channels. For example, many people now undergo a so-called "social media detox" by not using social media for a few days or weeks. However, this abstinence is unthinkable with email. Email has become an integral part of our everyday life and a kind of digital address.
From the exchange with colleagues, friends or family members, order confirmations, registration formalities on various platforms to planning your next trip – pretty much everything is handled by email these days. A life without email has become unthinkable. Best times for email marketing.
Focus in the mailbox
While you are almost inundated with a large amount of information on many social media channels, things are quite focused in the inbox. This is where emails arrive that are specifically aimed at the respective recipient. There is no easy scrolling here, since every email could potentially contain relevant information. Through quality content and emails with added value, companies can use this focus and the full attention of the recipient.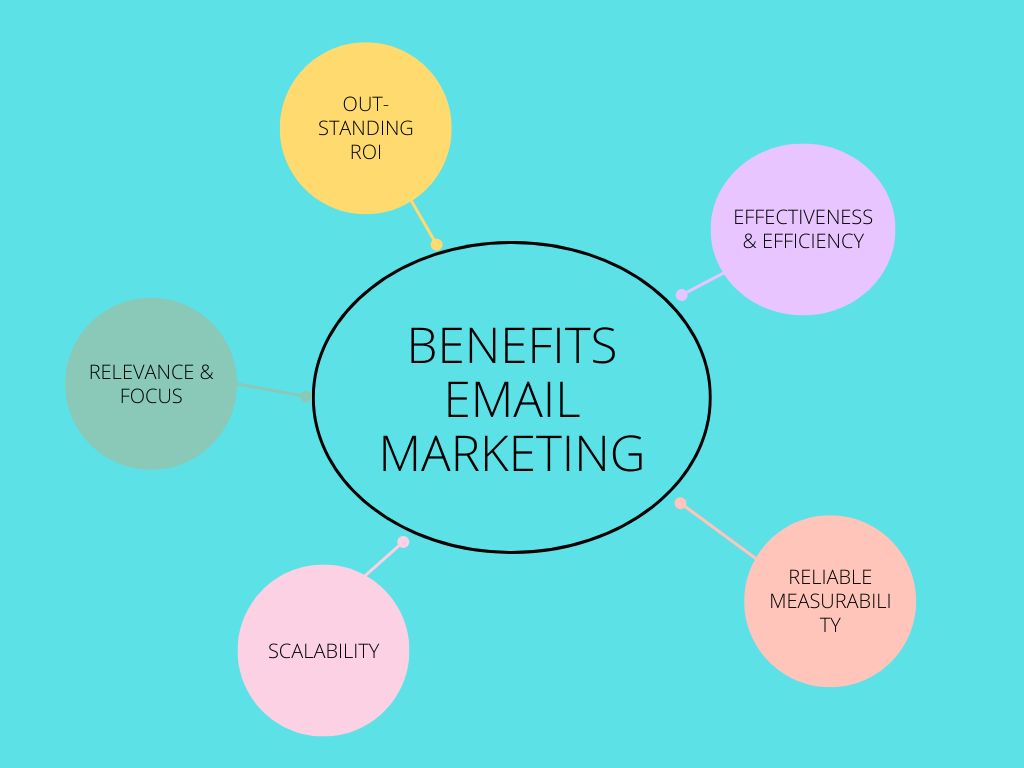 Success factors in email marketing
Deliverability
Even the best email campaign is useless if nobody reads it. It is precisely for this reason that deliverability is a key factor for successful newsletter marketing. In order for the email to get delivered to the subscribers inbox and not in the spam folder, a good reputation and compliance with legal regulations are required.
Email marketers must therefore pay attention to the GDPR-compliant collection and use of data, familiarize themselves with the regulations and guidelines of various Internet service providers and strategically build the reputation of the (new) sending domain.
If you are new to this field, it is highly recommended to work with external experts who specialize in the topic of deliverability.
Helpful tools
To create, optimize or send email campaigns, a good newsletter tool (or the help of an external expert/Email agency) is crucial.
There are many different options here. Depending on how your marketing team is set up, you can use individual tools for specific functions or you can use a comprehensive newsletter tool. When choosing the right solution, you should make sure that important functions such as personalization, A/B testing, responsive design, tracking options, reporting, GDPR compliance and secure data management are available.
Data correctness and maintenance
Targeted campaigns sent to segmented recipients produce the best results. In order to reliably segment your data, clean data collection is essential.
For example, you should know the correct names for a personalized campaign and consider the purchase history of your customers in order to send appropriate cross-selling campaigns. It is also extremely important to consider the country and language of your recipients for the right offers. Proper data collection and data maintenance are critical to successful email marketing and the many opportunities it opens up.
Professional, responsive templates
A high-quality HTML email template is crucial for a successful email marketing campaign. Both content and visual elements should be staged in an appealing way: on the one hand to attract the attention of the recipient and on the other hand to convince them.
However, programming HTML templates can be challenging. In addition to conceptual influences, you should also consider technical factors in order to create user-friendly and responsive templates.
In our article "Email Marketing: Best Practice for Creating Email Templates" you will get the most important tips for a successful template creation. Email marketing specialists like Audience Serv offer the creation of unique templates to get the most out of your email campaign.
Good landing page & user experience
In order to achieve a high conversion rate, a simple, good user experience is important. As soon as the user follows the desired CTA and leaves the email inbox, there should be a smooth transition to the subsequent conversion path.
The landing page should match the HTML template thematically and have the same look and feel. Users should be able to find their way around immediately and know where they have landed. In addition, long conversion paths should be avoided, since too many steps in the conversion funnel can lead to high bounce rates.
Segmentation & Personalization
By segmenting customer data, marketers can send customers very specific and relevant newsletters that fit the needs of the customer segment. In this way, personalized email campaigns can be planned, which ultimately increase customer satisfaction.
Let's look at the whole thing using the example of an online shop for dog accessories: The company has new dog beds in its range and would like to promote them. Instead of sending a random selection of dog beds to their subscriber list, marketers can segment the data by dog ​​owners and possibly even dog breeds. Based on this list, dog beds that better fit the size of the dog can be recommended.
Regularity
Regular communication with the customer is important in order not to be forgotten and to always keep customers up to date. Therefore, as a marketer, you should plan regular newsletters.
It is best to make a content plan for your email campaigns at the beginning of each year. This gives you a clear overview of all important shipping dates. With scheduled newsletters you can easily ensure regular communication. If you're short of ideas, our email marketing calendar is sure to help.
Email Marketing & Privacy
Since email marketing focuses on contacting (potential) customers, compliance with the GDPR is essential. By processing personal data, such as email address or name, some data protection regulations must be observed in order to avoid sanctions.
We have written a detailed article on "Email Marketing & GDPR" that gives a comprehensive insight into the topic.
Nevertheless, we would like to summarize the most important points below:
Consent of the data subject is mandatory: In order for companies to be authorized to send emails to recipients, they need their consent. As part of the consent, recipients must be informed about the purposes for which the data is collected and who is processing it.
The double opt-in procedure is best practice: In contrast to the single opt-in procedure, the simple registration procedure, with the double opt-in the recipient verifies their email address by actively clicking on a confirmation link. Therefore, the DOI procedure is preferable, but by no means mandatory according to the GDPR.
GDPR-compliant unsubscribe process: Each newsletter must grant the recipient an unrestricted right of withdrawal. For this reason, marketing emails must always contain a link to unsubscribe (opt-out). This way, recipients can unsubscribe from the email list.
Compliance with the imprint obligation: Since the sending of business marketing emails is a telemedia service, it is mandatory to provide the imprint. Therefore, the name and address of the company, contact details, name of the managing director, responsible district court and VAT ID must be stated in the email footer.
Compliance with the obligation to document collected data: Consumers have the right to receive information about their collected data at any time. Therefore, companies are obliged to comply with this obligation to provide evidence and to guarantee free information about the data collected.
Email marketing is one of the most important online marketing channels and should therefore be part in any marketing strategy. An extraordinary ROI, reliable measurability and good scalability are just a few of the many advantages of email marketing.
In order to use email campaigns in a targeted manner, you need a strategy and a certain amount of know-how. It is also important to consider certain success factors and current trends. Responsive templates, personalized emails and user-friendly landing pages are crucial.
It is also important to reliably test, measure and evaluate campaigns. This is the only way email campaigns can be optimized to achieve the desired result and results can be used as lessons learned for the next email campaign.